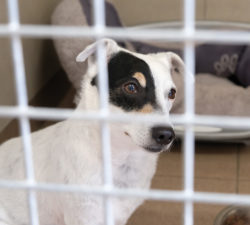 The kennel for smaller dogs
As this was the latest kennel to be refurbished, the "small dogs"  kennel now has brand new cages appropriate for their size. This well-ventilated space allows us to clean it easily and hygienically. Our dogs thus enjoy more comfort and this eases their stay in a cage.
The kennel consists of :
Six large and comfortable individual cages.
Three larger cages for medium-sized dogs, or dogs arriving together.
Tow sets of two cages specifically designed for a bitch with her litter of 4, 5, 6 or even 7 puppies.  These cages  with flaps enable the young mother to rest and eat alone, away from her little ones.
A small cage, higher up, specifically designed for tiny dogs or puppies.
Second part of our kennel 
This wing is for medium-sized dogs. All cages have a covered outdoor annex where our four-legged friends can breathe fresh air in good weather. If they need to, they can relieve themselves outside, thus avoiding dirtying the place where they sleep and eat. As this section is rather old, we are planning to refurbish the cages sometime soon. Both the tiles and the bars are so old, that they can no longer be cleaned well. This is not satisfactory, as perfect hygiene is so important to us !
Third part of our kennel
This section for "large dogs" was recently completely rebuilt. It provides them with very large, bright, well-ventilated and heated spaces, like the two other kennels.
As the larger dogs naturally make more noise, they required a space separate to that of the smaller dogs. The latter were often frightened and made anxious by the larger dogs' insistent barking. The dogs enjoy two "garden" spaces where they stay in turns and which allow them to run around, play and let off steam.
Special characteristic of Help Animals : even though many of our cages have an outdoor annex, all of our dogs are taken out on a walk every day, sometimes even as much as 2,  3, or even 4 times a day !